It's Wiki Wednesday! Once a month we highlight a helpful post from the Wiki with tips about productivity, wellness, and optimizing your use of Habitica!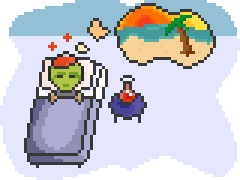 It's a rare Habitican who has never experienced a complete lack of motivation to do the things they know they "should" be doing. The helpful Wiki Scribes have documented some suggestions for tweaking your Habitica setup so that it works for you.
Players experience Burnout when they no longer care about completing tasks, and the rewards and penalties in Habitica are no longer motivating. Burnout can occur when the game becomes too easy or too hard, when tasks become tedious, or when changes occur in the player's life.
To learn more (and to take a look at the convenient reference chart), head on over to the wiki to read the full article! You might also want to take a look at the wiki article on Obstacles, which we briefed here.